1. Easter Greetings
We hope you made the most of the Easter season under the current restrictions. We know you appreciate that we are not having TAPP meetings until further notice. However the TAPP Executive had a teleconference on Friday and decided to give members an update on what has been happening over the past month.
2. Pelican Waters Southern Lakes
Some of you may have seen an article in the SC Daily concerning an application for development in Pelican Waters Southern Lakes district.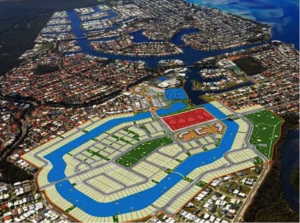 The application relates to the area in red which will incorporate a complex with shops, restaurants and seven residential towers – 221 units. The application is code assessable which means it does not need to have public notification but it needs to comply with all relevant codes. Ken on behalf of TAPP in conjunction with Sunshine Coast Environment Council (SCEC)  is looking into the paperwork associated with this application. TAPP is also planning to organise a meeting with Henzells to discuss this and the Jensen Park development when it becomes possible to do so.
3. World Environment Day (WED)
SCEC are currently working on developing WED Fest to be delivered in a digital format so we can still come together as a community and celebrate our natural environment. The format for this is unclear but TAPP has expressed an interest in being involved when we know more about how this may be possible. Any and all ideas are welcome.
4. Houseboats in the Passage
We have continual concerns regarding houseboats that are not complying with the regulations, particularly illegal dumping of effluent and overstaying the 14-day limit at one mooring. We have written to the authorities, again requesting that they look into this matter.
5. EPBC Act Review
The EPBC Act Review submissions close on 17 April.  You may be interested in the submission from the Environment Defenders Office – https://www.edo.org.au/2019/11/25/analysis-the-epbc-act-review-a-once-in-a-decade-opportunity/
6. Shelly Beach
The Council workers have removed the big cotton tree at Shelly Beach in the last few weeks. The event was reported in the local paper and thanks to John Roberts photos were taken during the removal. It appears that more of the current trees are to be taken out and replaced in coming weeks. Jude Crighton and John are monitoring the situation.
7. Pumicestone Passage Management Authority
Mark McArdle MP has organised a teleconference at 11am on Wednesday April 15th. Mark has requested agenda items. Graeme Smith has been doing a lot of work looking at other models that have been set up including the Gold Coast Authority and the Cairns Authority. Members of the Executive are participating in the teleconference and will keep you updated as the ideas are explored and developed.
8. TS Onslow Site
The mangroves are beginning to take root and grow even though we have lost many as a result of people walking on them. Some of the coir logs have disintegrated much quicker than anticipated, however Ken has managed to secure most of the logs. The bank itself is almost covered with the vines and plants and is holding extremely well.
9. Road Duplication
An email has been sent to the Minister Mark Bailey asking that TAPP be included in The State Government North-south Arterial Corridor Investigation Study. There has been no response to this request.
10. Pumicestone Passage Convergence Forum
The Convergence Forum that is being organised by the University of the Sunshine Coast and TAPP has been postponed until 2021. However under the guidance of Sue Chapman the planning group will use an internet platform to continue the planning process.
11. Hero Loan
An application was submitted on behalf of TAPP for a $250 Hero Loan to support World Environment Day. This loan was made available through Mark McArdle's office. This is now on hold during the shut down period.
We look forward to seeing you again when the restrictions are lifted.

Paul, Carla and John (The TAPP Executive).