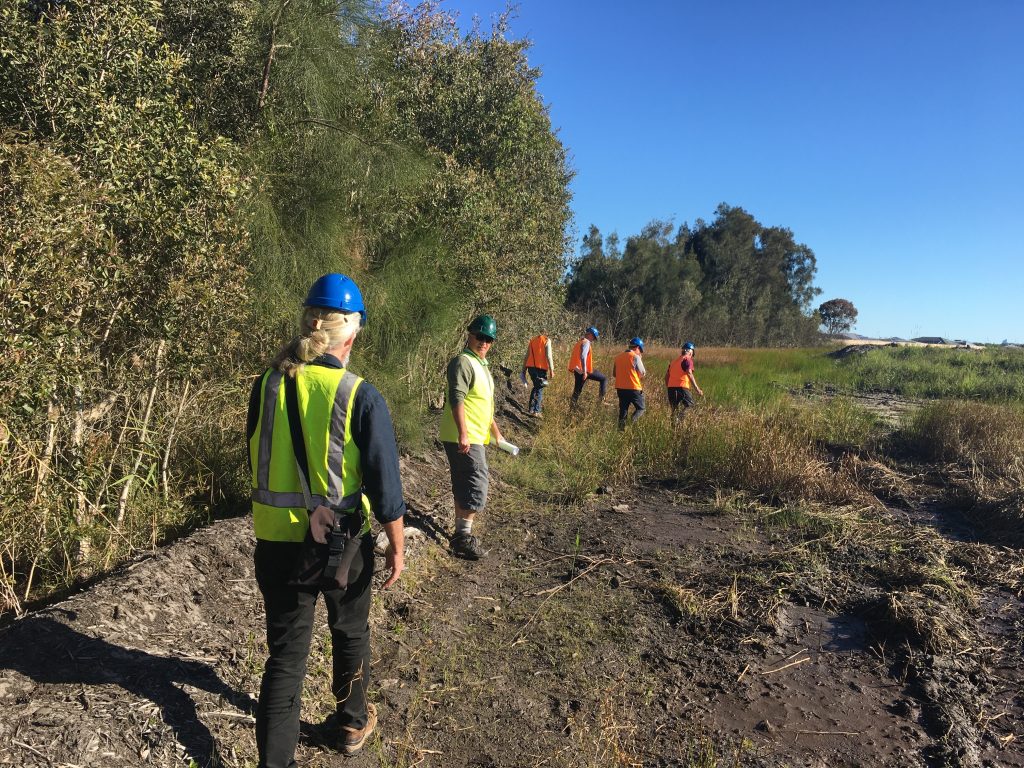 Greetings
The TAPP Executive met at Carla's place on Thursday 2nd July. We decided to provide you with another update. The photo this month was taken when the Executive visited Jensen Park.
Pelican Waters Southern Lakes
The Jensen Park site visit was led by Hamish Pressland from Henzells on Wednesday 24th June. Henzell's landscape advisor, their ecologist and the TAPP executive attended. Henzell's are changing their Development Application to preserve and enhance some of the natural vegetation area that remains. This will mean that approximately 4 hectares will be tidied up and maintained as they are presently, while the remainder will be developed into a recreational park.
Action: Ken and Paul will stay in touch with Hamish.
World Environment Day (WED)
The WED Event was conducted online this year from Friday 5th through to Sun 7th June. We hope you managed to tap into it by going to the SC Environment Council WED link
There were many excellent videos focused on education. One of our members, Jill Chamberlain was interviewed. Jill shared her involvement over a lifetime with those committed to protecting and enhancing the beauty of our region.
Susie Chapman also interviewed Emeritus Professor Ian Lowe and Professor Dave Schoeman who shared their scientific knowledge and facts about the rate the climate is changing and impact this is having on sustainability.
Houseboats on the Passage
A couple of weeks ago Maritime Safety Queensland (MSQ) approached the boats moored illegally on the northern end of the Passage and insisted that they comply with the regulations and move south of Bells Creek. This comes after many months of communicating with the various bodies who are involved in the Passage. Carla has been in contact with MSQ and the regulations are apparently in review as some of the rules are not clear. We have invited MSQ to come and talk to TAPP perhaps during the review to enable TAPP members to have input and to clarify the regulations that are in place.
TAPP are still in contact with Unity Water concerning a dump point placed at the boat moorings at Jensen's Park, Diamond Head. Some of the house boats are using a mobile pump out system but others need to empty their toilets regularly at public amenities, which is, perhaps, not convenient.
Pumicestone Passage Management Authority
The sub group met on 3rd July and are at a point where the rationale for setting up such a group needs to be developed for consideration by government. There is a lot of research that needs to be pulled together for the proposal.
Action: Ken will keep the Steering group updated.
Pumicestone Passage Convergence Forum
The planning group had a team video conference on Tuesday 23rd June. Those that are planning the forum for February 2021 continue to move the agenda along under the guidance of Susie Chapman. TAPP executive will facilitate The Community Knowledge and Stewardship session where community groups will make presentations to promote stewardship of the Passage. Several groups from both the northern and southern ends of the Passage will be asked to contribute. Brady has contacted Terry Landsberg and Mark McArdle to see whether they will be able to provide some financial support. This will enable the Convergence Forum to keep cost down to a minimum.
Action: Brady will follow up with the politicians. TAPP executive will continue to meet.
Bells Creek Projects
The TAPP executive met with Susie Chapman and Peter Armstrong at Bells Creek. Another meeting is organised on Thursday @10am on 9th July. The project will aim to stem the erosion at some of critical sites and care for the fauna and flora in the riparian areas. Healthy Land & Water have earmarked initial funding for the project.
Action: The TAPP Executive will continue to engage with the project.
Jet Skis
Ensuring that jet skis comply with the law continues to be a problem in the Passage.
Action: Brady will contact the police to see what can be done about compliance to the existing laws.
Signage at TS Onslow
TAPP executive have been meeting with Susie Chapman, Council officers and artists about the permanent public Information sign that will be put up at the TS Onslow site. The artists now have a thumbnail of the final sketch, Susie will finalise the wording and will present the group with a more detailed layout which will enable us to seek quotes.
Local Member Visit
The Executive will invite Terry Landsberg to the next TAPP Executive meeting.
Action: Paul will call Terry to organise a suitable time.
Dredging Sand for the TS Onslow site
The local council engineer is organising the sand dredge to pump sand on a section of the TS Onslow site. There is a meeting organised on July 14. A working bee needs to be organised to prepare the site and to prune the hop bushes to fence height next to the site.
Action: Ken will follow up to set a date and Ken and Paul will organise a working bee to prepare the site and cut the bushes.
National Landcare Conference
TAPP has been invited to present a short abstract of our TS Onslow project or provide posters at a National Landcare Conference to be held in Sydney. This may be an opportunity for TAPP to display our project. Carla has been in contact with the organisers and is considering whether it is viable for us to enter a poster. The cutoff date for a submission to this conference was set for early July but may be extended due to the corona virus.
Aura Community Advisory Group Meeting
Mark Stephens provided the group with a development update. Progress is continuing to the next suburb – Nirimba. The catchment for Lamerough Canal is now a stable environment. Future development will now impact Bells Creek. A community group called Aura Connected now meets regularly and is motivated and active. Aura is still working together with the University on frog management and they are now using acoustic detection technology which is providing them with more accurate information.
Paul Smith continues to monitor fauna and flora at Aura and he provided the group with some data. (139 bird species were found during the previous study) He will provide information to the group regarding changes to the numbers as Aura progresses.
Fire management has been an issue due the weather. They have been waiting for appropriate conditions but it seems that it was possible last week to do a cool burn. Old growth trees are being mapped and monitored.
Executive Membership
The Executive have invited Ken to rejoin the Executive. This will be voted on at the AGM in August.
A nomination form for a position on the executive is attached so if you are considering becoming more involved please fill it out and email it back it Carla.
Political Issues
TAPP will be contacting the candidates for the impending State Elections in regard to the important issues facing the Passage. These include-
Removal of Halls Creek as a potential future growth area in the SE Queensland Plan
Recreational damage to the Pumicestone Passage
Sewage dumping and regulations regarding houseboats in the Passage
Nutrient and Pesticide run off / sedimentation and erosion in the Passage
Duplication of the Bruce Highway through wetland catchment areas of the Passage
If you have a concern that you would like us to consider presenting to the candidates please let us know.
New Members
We have had three membership requests through our website since our last meeting. We have also had several positive comments posted on the site.
Damage at TS Onslow
A number of the more mature mangroves planted in Stage 1 have been broken off at the TS Onslow site. It is very upsetting to see the damage that has been done. Susie Chapman has written a letter to Council and Department of Agriculture and Fisheries expressing our concern. Carla has contacted the SC Council to report it as an act of vandalism. We are hopeful that there will be a consequence to this vandalism. Please keep visiting the site to ensure that the community knows that we are attentive to what is happening.
Isabel Jordan Reserve
Carla and John have been involved in discussion with Qld Wildlife Preservation Society about the Queensland Air Museum's petition to the State Government about expanding onto the Isabel Jordon Bushland Reserve. This reserve is in the Pumicestone catchment and is a valuable remnant of wallum heath. The Caloundra Branch of the Wildlife Preservation Society is now preparing a petition to Parliament to enable an alternative view to be presented. The time frame for this petition is very tight. Please go onto the Qld Wildlife Preservation Society website or contact John or Carla to access this petition and encourage friends and colleagues to sign as well.
AGM
The TAPP Executive has scheduled our next face-to-face meeting for Tuesday August 11 at the Power Boat Club upstairs in the Pelican room.
This meeting will be our annual AGM and all members will need to pay their membership at the meeting in order to vote. Please fill out the attached form so the treasurer can effectively process the membership renewals on the da y and update any particulars which may have changed. If it is convenient you could deposit your annual membership fee and any donation directly into our Bendigo Bank account.
The BSB no is 633 000 and our account no is 142855311
Our Account name is TAPP (Take Action for Pumicestone Passage Inc.)
Please make the reference for the recipient your name so we are able to record your payment.
We hope to see you at this meeting. Until then stay safe and well.
Paul, Carla, John, Brady and Ken. (July 2020)