Minutes of TAPP Inc. General Meeting July 13th, 2021
Held at the Caloundra Power Boat Club
All welcomed by Paul Harney President of TAPP
Paul acknowledged the traditional owners of the land on which we meet – the Kabi Kabi, Jinibara and the Bribie Island Undandi people, recognizing the care and respect they held for their country and hoped that we could work with them to take care of this beautiful land.
Member attendance: – as per attendance book (13)
Apologies : – as per attendance book (6)
Motion put that the apologies be accepted
Moved: Muriel                      Seconded: Ken                     Carried
Minutes of Previous Meeting
Motion put that the minutes of the April meeting be accepted as a true record.
Moved: Tony                         Seconded: John                     Carried          
Business arising from the minutes of the previous meeting.
None reported
Correspondence – Paul
Newsletters from
*Organization of Sunshine Coast Association of Residents (OSCAR) – general news and links – Mass Transit Issues more information here –  https://www.oscar.org.au/
*Sunshine Coast Environment Council (SCEC) – World Environment Day
*Healthy Land and Water – Newsroom      https://hlw.org.au/category/newsroom/
*Qld Water and Land Care (QWALC) re National Awards
Caloundra Livability Coalition – A group formed by concerned residents around Shelly Beach and Moffat Beach resulting from the issues that they have had with Council in regard to the ongoing problem of residents and view creation. They are wanting to form a loosely coordinated coalition of community groups who can support each other with individual issues.
Healthy Land and Water – Susie Chapman re the Bell's Creek project
Our TAPP Website will soon host the video recordings of all the Convergence speakers. Gary Britland of F8 Media has compiled the videos and will have them on our website soon.
Motion put that the correspondence be endorsed and accepted.
Moved: Di                              Seconded: Allan                    Carried
Treasurer's Report – John
TAPP General Account
As at 30 June 2021
Balance brought Forward from 1/06/2021
  $11,008.70
Interest   01/06/2021
$           .09
Membership – John Saint-Smith
$       20,00
Payments:

SCEC Annual Membership

Southeast Land Repair – Bells Creek Restoration, Inv. 0006411

$       

55.00

                                

$    2,581.74                          

Direct Credit – HLW Deposit of Funds for the Administration of Bells Creek Works Payments
$ 

14,627.00

                       

Bank Transaction Fee
$          0
Balance as at 30/06/2021 
$   23,019.05
Financial Membership:  43 as at 30/06/2021
Motion put that this report be accepted as a true record of our account to date:
Moved: Ken                Seconded: Erica         Carried
Matters for Information
August AGM – all positions will be open for re-election so please come forward if you would like to be more active in TAPP. Brady will be stepping down from his role as Vice President next year as he is now too busy in his new role with the Chamber of Commerce.
Update on the Pumicestone Passage Local Management Body (PPLMB) – Ken
The last meeting discussed the upcoming AGM in October. Membership is growing but there is still a lot of work to be done till the Management Body is up and running.
TS Onslow Update – Erica
Continued weeding and trimming to maintain the site. This involves an hour or two each week. The site is going very well. The bushes ae trimmed regularly and they are looking healthy.
Caloundra Community Hub – Carla
A meeting was held on the site of the Hub. We discussed what would be needed to get the rooms up to scratch and what the Council would be responsible for. The rooms will need furniture, computers and other general software.  It will be a space for community groups firstly but different business groups will also be encouraged to be involved to support the space.
It is thought that the cost to each group would be approximately $100 per year. This would be reviewed in future. The first years fee will need to cover setting up, insurance and signage etc.
Pumicestone Passage and Catchment Stakeholder Group – Strategic Planning Group
Local Councils – Moreton Bay and SC Council as well as other Govt Departments and businesses in the Pumicestone Catchment are putting together a strategic Plan for the Passage and the Catchment.  The Pumicestone Passage Local Management Body (PPLMB) are now also represented in the group.
Information at the Convergence was presented under six different categories for example – Marine and Terrestrial Habitat and Species, Agricultural Knowledge and Science. These categories will form the basis of the new strategic plan. TAPP has identified 8 areas which we will work on over the coming years.
Ramsar Signage and Brochure – Meeting with Jason Hunt – Paul
We will be meeting with Jason in the coming weeks. We have provided Jason with information about the EPBC Act. We are gathering information to develop a brochure for visitors to inform them about the Pumicestone Passage and what it means to be a part of the Moreton Bay Ramsar site. There will be a community grant which we will be able to apply for to produce this brochure. Jason Hunt is still hoping to get a ranger for the Passage.
Golden Beach Foreshore Bush Care Group – Carla
This was very well attended – 22 people altogether. Caloundra Pacific Rotary Club members also supported us as well as a number of locals. Ash Goodman, the Council Officer in charge of our group took us around the area that we will be working on showing us the weeds and other problems with erosion and illegal pathways where we can do some planting.  Our meetings are every second Thursday so our next meeting will be on the 12th August. Emails will be sent out about this closer to the day.
Face-book Training with Huxley – Paul
Huxley was going to train some of us on effective use of Facebook and our website. We will be organising this in coming months.
SCEC Meeting – Ken/Paul
Meeting to be organised in the near future.
Neighbourhood Watch Newsletter Article – Paul
The article in this month's newsletter is about the wash-over and our concerns regarding the future.
Paul has submitted an article for next month about our submission to the Govt regarding our speed limit proposal.
To view the latest version of the newsletter, please select the link below and then select the 'download attachment' button on the web page:
https://www.nhwq.org/goldenbeach/newsletters/golden-beach-nhw-newsletter-june-2021/
Matters for Discussion
Managing the Passage Speed Limit Proposal Update and Discussion – Paul
Paul now has five letters of support from Community Groups in the area. More letters will come in. We will then meet with Jason Hunt, Terry Landsberg and Ali King before we present this submission to the state minister for Transport.
Kerrie informed us that MSQ has just completed a hydrographic survey of the Passage and in the next few months some of the channel markers will be replaced and will correctly mark the channels. They are new markers which will be able to be readily moved when sandbanks change.
WPSQ also supports this but would ideally like to have the limits increased to further help the wildlife on the Passage. It was suggested that we flag this opinion in the preamble to our submission when we present it to the State Ministers.
Kerrie also mentioned that the jet-skis are a real hazard to the canoeists who hire canoes from them. As a commercial business they are happy to support our submission as well.
Bribie Island wash over (Sel Sultman and Mike Ronan) – Ken /Paul
Graeme, Ken and Paul have been down to Brisbane to meet with Sel Sultman, The Senior Coastal Engineer with the State Dept of Environment and Science (DES), to present the viewpoint that the erosion is indeed as a result of some human interference. While Mike Ronan, Manager of Wetlands (DES), is more sympathetic to our views in that when they consider issues, they are amenable to listening to the local's observation and history.
After the meeting with Sel Sultman a six-page summary of concerns was sent to Sel. He then answered this with a long response again stating that human interference had no bearing on the erosion on Bribie Island. There will be another meeting in the near future.
The wash over site now has a sign which asks visitors to respect the site and not walk over it.
Kerrie mentioned that this sign was an eyesore. The site is not monitored.
There is a meeting in Brisbane with BIEPA and Parks and Wildlife to discuss Bribie Island at the end of the month = perhaps a TAPP Rep could attend.
Caloundra Livability Coalition – Ken /Paul
This group will put a charter together to outline their aims. It is a network rather than a formal group. The idea is that local groups will have the opportunity to support other groups with local issues. Emails will be shared to enable networking on particular issues.
Bells Creek Erosion Project – Paul/Ken
TAPP has received funding from Healthy Land and Water and are working with the SC Council to contract a company called South East Land Care to eradicate weeds and plant natives in the Bells Creek Riparian area. To date they have revegetated a section at Lot 431 and have eradicated most of the Asparagus fern in that space. They planted a number of trees to define a pathway through the area. We were not allowed to put gravel there to define the path. (See pictures below)
An archeological survey of the area has also been completed to map important sites.
World Environment Day (WED) (June 5th 2022) – Ken/Carla
Next years World Environment Day is now being discussed by SCEC. Since Covid, WED has not been able to be celebrated as a large gathering. This year it was a number of small local events run by community groups.
The original one-day celebration of WED takes about 8 months for SCEC to prepare. The question is whether we should attempt to have a large gathering of all the groups in one place on one day or stay with the smaller event s in local areas.
The larger event has a lovely atmosphere with entertainment and commercial groups coming to show innovation in technology, but this needs a great amount of organising.
SCEC was impressed with the attendance at the local events. It was perhaps attended by people who might not travel in to Cotton Tree for a day. SCEC obviously had a much less stressful task in coordinating the smaller local events.
Each method of celebrating WED has merits.
Perhaps we could organise a larger local event with 5 or 6 groups getting together, organising entertainment and food as well.  We will need to continue to consider the options.
Sunshine Coast Underwater Clean up Divers (Elliot Peters) – Paul
Perhaps we could invite Elliot Peters to give us a presentation at one of meeting in the near future.
Eco Caravan Park proposed for Roy's Road property – Ken/Paul /Carla
TAPP were invited to meet with Rob Comiskey, the new owner of the Roy's Road Property.
The Comiskey Group own the Sandstone Hotel on Bribie Island Road. They are proposing an eco-park at Roy's Farm. They plan to revegetated the site with lots of trees, 142 caravan/camping sites and 8 cabins. They will do eco-tours with a 20-seat pontoon boat. There will be horse riding and they will have canoes for hire. They won't be encouraging motor craft. There will be an onsite shop and they will have their own sewage disposal system in place. Power will be town power, hopefully supplemented with solar panels. The plan circulated is an early concept plan. TAPP will keep in touch with the owners.
There is a public boat ramp next to the site which can't be controlled by the caravan park and will therefore be used by the campers. So, traffic on Coochin Creek and the Passage will increase.
Around the Table
Paul      *Extra Correspondence- Meeting with National Parks and Wildlife – called Loving Them to Death – the impact of increasing visitors to Stradbroke, Moreton and Bribie Islands.  It is a Q and A session with 4 speakers. Thursday 22nd July at Fortitude Valley Student/Pensioner fee – $26. Let us know if you would like to attend.
*Single use Plastics ban comes into effect on 1st September – the ban includes plastic straws, stirrers, cutlery, bowls, plates, and expanded polystyrene cups and containers. To explain this further there is a meeting at the CSSA Hall, 1 Nutley Street on 10th August at 5.30
If you would like to attend, please RSVP  tanja.schueler@boomerangalliance.org.au or use
THIS LINK to register on our Eventbrite page.
Tony = Mass Transit System
Tony is going to a meeting on Saturday with OSCAR. The OSCAR Submission is on their website
Graeme as Secretary of the Residents Association has put in a submission as well.
We will be impacted by the new road from Bell's Creek through Aura and the new Mooloola river overpass which will connect through from the Bells Creek Link. The increased population and therefore traffic due to Aura, the industrial estate, the racecourse, the hospital and the Bitinya industrial estate has not been identified or dealt with in the Mass Transit system. The new Gold Coast transit plan has just been released and is on the Dept of Main Roads site. It seems that this is an example of what we could expect here as well. If you are interested, please contact Tony through the TAPP exec, the Residents Association and/or OSCAR.
Muriel – Talked to Terry Landsberg about the new road from the Nicklin Way.
We can now top up our Translink bus/train go cards at Kerry's Corner.
Judy – Walks along Golden Beach and has noticed that the erosion from Diamond Head to Bells Creek boat ramp. There are a lot of trees which look like falling in to the Passage. TAPP will mention this when we next meet with Terry Landsberg.
Noticed a lot of tiny polystyrene balls washed up along the shore. The Caloundra forum regarding the ban on single use plastics is, as mentioned, on 10th August, perhaps the polystyrene problem could be addressed there.
Paul thanked everyone for coming and closed the meeting at 4.15
Our next meeting will our AGM and August General Meeting on Tuesday 10th August at 3.00 pm at the Caloundra Power Boat Club. This meeting will be held downstairs on the grassed area again as the Pelican Room is not available for us on this day.
Progress at Bells Creek Restoration Project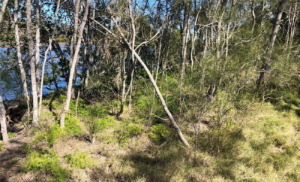 Earlier picture of the asparagus fern at the site near Lot 431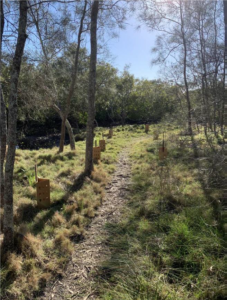 After weed eradication, planting of trees and path creation.
(In the same vicinity as the location above)